Ben's 'Hats on 4 Mental Health Day' is back!
Ben, the not-for-profit organisation that partners with the automotive industry to provide support for life, has revealed the details of this year's Hats on 4 Mental Health Day on 13th October. Last year marked the inaugural Hats on 4 Mental Health Day, Ben's national fundraising event for the automotive industry, which raised over £13,000.
The day aims to raise awareness about mental health challenges, whilst raising funds to help Ben support those working in the industry who may be suffering in silence. Another key message of the campaign is to highlight the importance of talking about mental health to ensure people know Ben is here to help.
The face of the campaign is Mike Brewer, Presenter of TV Show Wheeler Dealers, who has been recently announced as a Ben Celebrity Ambassador.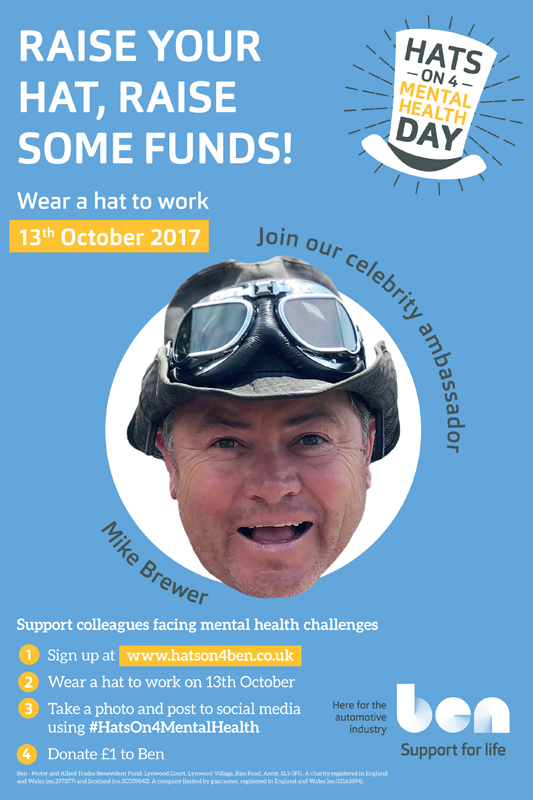 Companies and individuals can now sign up to the campaign and join in the fun.
How to get involved:
Visit hatson4ben.co.uk to sign up and download tools and resources
Wear a hat to work on 13th October
Take a photo and post to social media using #HatsOn4MentalHealth
Donate £1 to Ben
Another important part of Hats on 4 Mental Health Day involves Ben working with employers to raise awareness about the implications that mental health challenges can have on employees. We are providing companies with the free tools they need to support their staff – these can be found in the 'Toolkit' on www.hatson4ben.co.uk.
The day is part of Ben's wider mental health campaign during October to December and spotlights how mental health can affect anyone, at any time. The campaign is particularly relevant as recent research shows two thirds of British adults say they have experienced mental ill-health at some point in their lives, according to the Mental Health Foundation. In an industry which has a workforce of over 800,000 people, that's over 500,000 people potentially affected by mental health challenges!
Mike Brewer said: "We're calling upon you to get involved in Hats on 4 Mental Health Day because we need your support to raise awareness about such a worthy cause. Let's keep talking about mental health to help prevent people from suffering in silence. So what are you waiting for? Sign up now and get involved. Raise your hats, raise awareness and raise some funds for Ben!"
Jools Tait, Business Development Director at Ben, said: "We're delighted that Hats on 4 Mental Health Day is back after such a successful first year in 2016. Ben's aim is to highlight the implications that mental health challenges can have on one of the UK's most important industries – the automotive industry! Please donate £1 or as much as you can afford, and share your pics on social media using: #HatsOn4MentalHealth. Also encourage your companies and colleagues to get involved!
"We believe this year is going to be even more 'cap-tivating', so 'doff your hats' for Ben on 13th October and help us smash last year's target! Thank you in advance for your support, we hope to continue raising awareness about such an important cause. We believe this event will be a celebration of how much our industry can do together for colleagues who are suffering from mental health challenges."